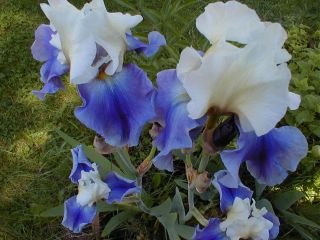 The ever amazing changing Iris!
Top is 2005.. bottom from 2004

Did I ever tell you about the beautiful Irises I got a couple years ago? They were chocolate with caramel on top. We had to move it the next year and see the picture on the bottom? It bloomed Purple and white. Then we moved it back to the previous garden and it changed again! Lavendar blue and white....Well........this is the same Iris!! Believe me..I'm as surprised as you!! I did hear that depending on the condition of the soil that the color can change. Especially, with these big ruffle ones.
As far as knitting goes. I have finished the back of the frond sweater and am about 1/4 of the way up the front. I've spun alot of roving..mostly stuff that has been laying around since the beginning of time. So, I'm keeping busy.