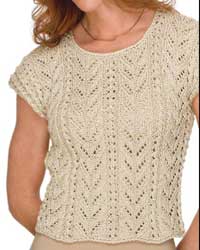 Rich Fronds
Isn't it Pretty? From
Creative Knitting
, May 2005. Going to make it with Lambs Pride cotton in a turquoise color. Had a horrible time figuring out the pattern. The first 2 rows kept referring to an A B C & D and there wasn't any on the chart. I'd almost given up till I checked their
correction page
. There it was.. ABCD on the chart..THANK YOU!! Now I can worry about my brain not the pattern. I can deal with that!
Had a lovely lunch with Liza today, who promptly explained the first 2 rows to me. Now I'm several into it and its so easy ... THANKS LIZA
And yes, it is another deviation from the Sari waste sweater.