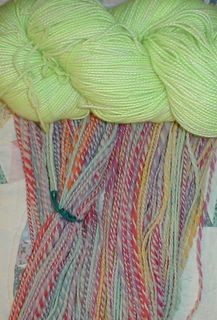 Sweater?
Yes yes, I own the books.. yes, I did read them. I remember something about twists.. and crimp and bla bla bla. But, truthfully, my brain sees wool.. it goes "spin wool, pedal faster, Wool good... heee heee.." Not much thinking goin on.
So, imagine my surprise when. The little thinking light went on!! It was painful.. believe me. But, plying 2 colors like this really shows you what your doing correctly and incorrectly. I discovered that I've been handling my plying all wrong. Pfft.. go figger. I think I'd been just pretty much slamming the two plys together .. lazy like.
I found that if I run my lightly pinched fingers of one hand up the yarn that it plies much more uniform. Now these are about as perfect as I've ever done. At least to my eye. Am I dreaming or did I
get
something?
Anyway, I have 6 hanks and I think I should be able to get the body of a sweater out of it with maybe the green as sleeves. I have some lavender as well but it seems to mute the colors where the green makes them pop.
Now to settle on some kind of pattern stitch for the front and leave the back and sleeves plain st stitch. Any Ideas? Pull over or Cardigan?
You guys do know how to leave comments don't you??

close up