This is what I hope to be starting this week in the yarn
below
in the multicolor with the
lime
for the sleeves. It will be much more pastel then the picture. All colors are Plied with white..lol. But, I was playing with the dumb little Paint program that comes with windows and this is what I came up with.
These are the actual colors I'm working with.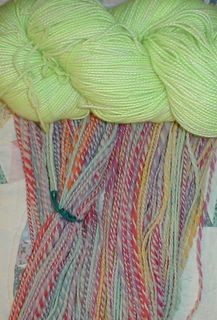 For the last several weeks I've been working on the sleeves for a Grape colored diagonal sweater that I knit 2 years ago. I've been having to spin the yarn as I go. I think that part of the work is done but the knitting is only about 95% done. I will post a picture when its done.
Also, this week, my husband Bill and I worked on a dresser for our Grand daughter Eryka. Bill found this for $15 at a local junk store. It turned out beautiful with fresh paint and new gold trim. The Mirror was on Wyatt's dresser when he was a child. It looks really nice all painted up.